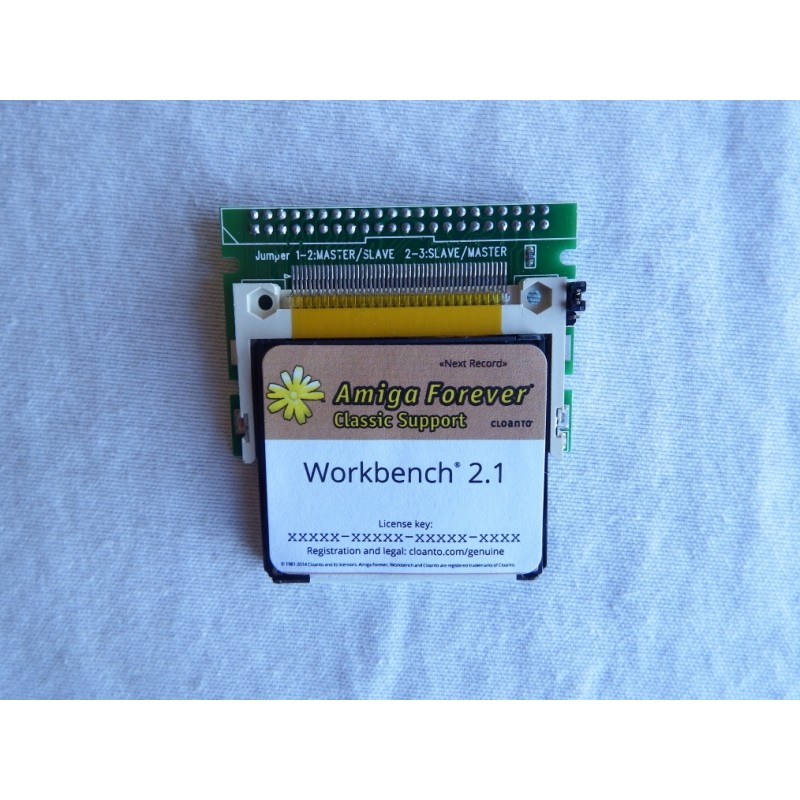  
4GB Compact Flash Amiga 600, 1500 Games
NEW 2020 version

4 GB Compact Flash Hard Disk for Amiga 600 computers, optimized for 2 MB RAM machines
INCLUDES:
✅ NEW 4 GB Compact Flash Hard Disk

✅ NEW Compact Flash to Amiga IDE adapter. Do not need cable

✅ Original Cloanto Workbench 2.1 license

✅ In stock, ready to ship

Your purchase protected by Trusted Shops

Free shipping in all orders over 60€ * (Except Lithium batteries and Gift Cards)

14 days to return it
The Kit includes:
A NEW IDE 44 pines, as found in Amiga 600 computer to Compact Flash adapter.

A NEW 4GB Compact Flash Hard Disk.

Original Workbench 2.1 installed, licensed from Cloanto Italia srl, owners of the Workbench rights.
VERY IMPORTANT this kit only work in the Amiga 600 computer if you have the KickStart version 33.300 or up. If you want to know the ROM version you have in your Amiga 600, start it up without any Hard Disk or floppy disk inserted, wait a few seconds and then you could see the insert disk screen, in this screen you can see the ROM version. If you have a 37.299 version YOU CAN´T USE THIS KIT, or other PCMCIA card, until you change your ROM.
The Hard Disk has installed some useful applications, Deluxe Paint IV, HippoPlayer, etc.
Has installed the WHDLoad 18.3 program too, with this program you can run, from Hard Disk, thousands of Amiga Games originally designed for floppy drive. Full version of WHDLoad, without any limitation. The Hard Disk has 1000 games and 400 Demos installed, and is Ready to Run immediately. The Hard Disk has 300 MB. free so you can install even more games on it.
Your Amiga 600 MUST HAVE 2 MB of RAM, please note that some games does not work with only 2 MB RAM.
Support Amiga and buy original products. Thanks.