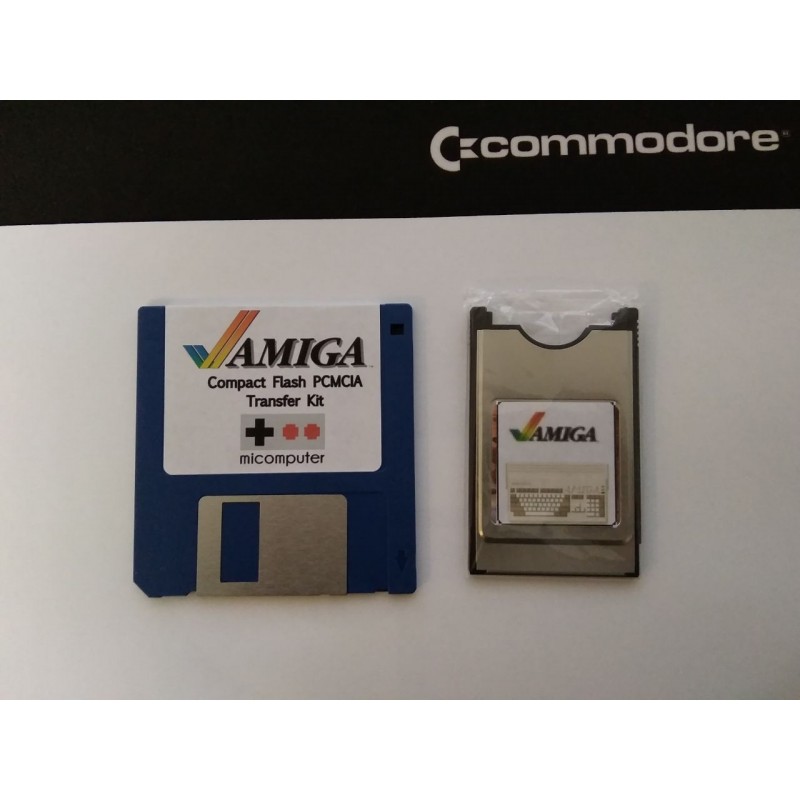  
Kit .adf PCMCIA. Amiga 600 or 1200
Kit PCMCIA for Amiga 600 or 1200 computers

✅ IN STOCK, READY TO SHIP
Includes:
✅ A compact flash to PCMCIA adapter

✅ A NEW (NOS) floppy disk with the Compact Flash drivers for the Amiga. This disk can boot the Amiga* so if you don´t have a hard disk on your Amiga you can boot with this disk and transfer .adf images to real floppys. The disk includes a installer to install the drivers on your hard disk if you have one.

✅ English User Manual, PRESS HERE to download it.

✅ OPTIONALLY: 4GB. or 8GB. Sandisk brand Compact Flash memory card

✅ OPTIONALLY: USB Compact Flash reader for use on your PC / Mac


Your purchase protected by Trusted Shops

Low Shipping Costs

14 days to return it
This Kit have some advantages to an Amiga User
The floppy disk, Compact Flash adapter and the memory card are NEW and compatibles with your Amiga, don´t worry about incompatibilities.

The 4 GB. or 8 GB. size is enough for Amiga use, you can put 5000 .adf images on the 4 GB card.

The Installation procedure is automatic and the transfer process to a real floppy is very easy.
VERY IMPORTANT this kit only work in the Amiga 600 computer if you have the KickStart version 33.300 or up. If you want to know wath ROM version you have in your Amiga 600, start it up without any Hard Disk or floppy disk inserted, wait a few seconds and then you could see the insert disk screen, in this screen you can see the ROM version. If you have a 37.299 version YOU CAN´T USE THIS KIT, or other PCMCIA card, until you change your ROM.
* This floppy disk can boot your Amiga if you have Kickstart ROM 2.x, 3.0 or 3.1, it will not boot your Amiga if you have Kickstart 3.1.4 or 3.2
You need a Compact Flash reader on your PC or Mac to transfer files.
The floppy disk colour may be different from photo.