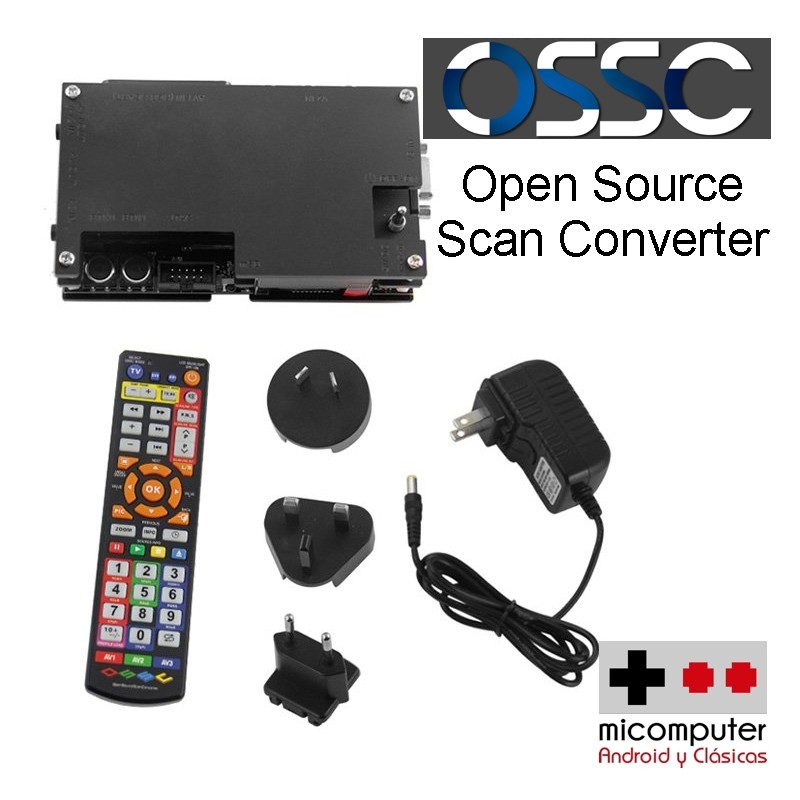  
OSSC Open Source Scan Converter
OSSC Open Source Scan Converter v1.7, firmware 0.90
At last an economy and easy way to use our old consoles and computers with a modern TV or monitor with HDMI.
Forget bad upscaling, no more interlacing artifacts and no more input lag. OSSC process the image without lag, unlike other scalers, the OSSC it´s the only one without lag (a few nanoseconds).
Convert from component video, Euroconector (SCART) or VGA.

✅ One year limited warranty.

Your purchase protected by Trusted Shops

Low Shipping Costs

14 days to return it
Specifications:
Inputs:

1 x SCART. Supports RGBs RGsB and Ypbpr
1 x Component video. Support Ypbpr and RGsB
1 x D-SUB 15 (VGA). Support RGBHV, RGBs, Ypbpr and RGsB
2 x 3.5mm analogue audio. Supports analogue audio
Outputs:

1 x HDMI. Digital only, including audio.
1 x 3.5mm analogue audio
Supported Input Resolutions:

240p/288p/480i/576i 15khz
25Khz medium-res modes
480p/576p/720p/1080i 31khz
Other Features:

LCD screen
Infrared receptor
JTAG connector
What is included:

1 x OSSC
1 x Remote control
1 x Power Supply 100-220v, with european, american, british and australian connectors