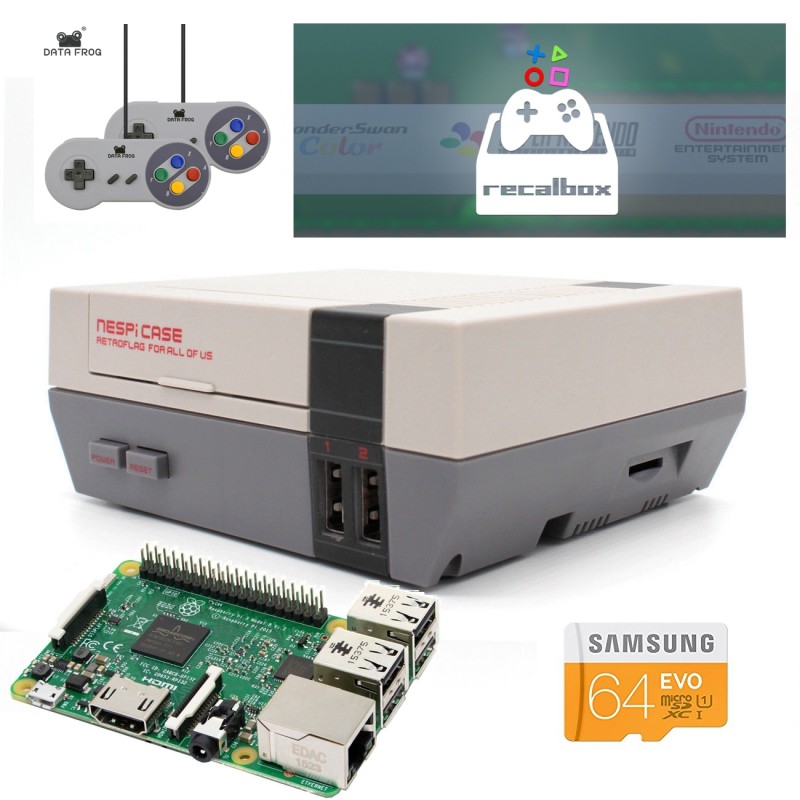  
NESPI
Rasperry Pi 3 console with Recalbox
THE BEST GIFT FOR THIS CHRISTMAS
In stock console for emulation based in Rasperry pi 3 board with Recalbox.
IT DOES NOT INCLUDE illegal content, all content in the microSD card is free available on the net.
In stock, ready to ship.
the kit includes:
✅ Raspberry Pi 3 board
✅ Nintendo NES case recreation from Retroflag
✅ Two Super Nintendo style USB controllers from Tomee or Data Frog, similar to iBuffalo
✅ 64 GB Samsung EVO microSD memory card
✅ Power supply, 220v., european plug and 1.5m. long HDMI cable

Your purchase protected by Trusted Shops

Free shipping in all orders over 60€ * (Except Lithium batteries and Gift Cards)

14 days to return it
What difference this kit from others?:
✅ All components are NEW
✅ The case is the official recreation from Retroflag, made in injected plastic, much better quality than the normal 3D printed cases.
✅ The case recreation is totally functional: the power supply and reset buttons works with the Pi, and the cartridge slot could be opened to reveal the net connector and two USB ports.
✅ 64GB microSD memory card, enough for put all your favorites ROMs on it.
✅ The controllers are from Data Frog or from Tomee, similar in quality to iBuffalo, much better than the generic Chinese controllers sold by other vendors.
Your pourchase more easy:
✅ Pay with PayPal.
✅ 1 year Limited Warranty
✅ Shipped from Spain, EU, no customs fees in all European Union